Empty Stomach Questions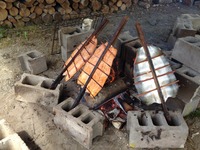 thhq
0
· October 01, 2013 at 12:35 PM
You stomach is not really empty, but is already full. When the water arrives it has to leave fairly quickly, starting within 5 minutes into the small intestine, and more or less all gone in half an hour.
Votes


2
Answers


5
Views


22.5K
Emptiness in stomach after meal?
For about two/three weeks now I've been feeling a strange emptiness sensation around my stomach area 10 minutes after eating. I was wondering if anyone ever experienced this as well? I'm having trouble figuring out where it could come from... (more)
Votes


1
Answers


1
Views


2.7K
How long does a meat and fat meal stay in the stomach?
If I eat meat/fish with fat (with or without greens) for dinner, how long will it take untill my stomach is empty again? I haven't found nothing but information about mixed meals with starches, which might take about 4 to 5 hours to leave the... (more)