Fish Eggs Questions
Votes


0
Answers


4
Views


565
Anyone ever buy fish roe? Salmon eggs? Caviar?
Thinking about making fish eggs a regular part of my diet. Love love love it in sushi! Plus it's a low-muscle-protein source of natural EPA and DHA omega 3's and generally extremely nutrient dense food. I have to seriously consider this... (more)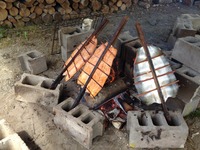 thhq
0
· April 30, 2014 at 3:07 PM
Try a jar of taramosalata sometime. http://www.amazon.com/gp/aw/d/B000LRIJ82?pc_redir=1398712703&robot_redir=1
Votes


2
Answers


3
Views


8.7K
Where to buy Roe/Fish eggs?
by
Soul
1418
· about 2 hours ago
So where do you buy fish eggs at? Do you just go ask at the seafood counter for some fish eggs? I bought some type of little fish that looked like/was sardines and they had eggs in them but I cooked it so I couldn't really taste it. We usually buy... (more)
Votes


1
Answers


1
Views


1K
Fresh roe sacs - how to prepare?
I have a few sacs of fresh, raw roe, but I'm not sure how to handle them. Do I open the sac and remove the eggs? Do I eat the sac and everything in it? Cooked, raw? This is an exciting and confusing time for me. Edit: Thanks for the link,... (more)
Jenny at Nourished Kitchen just posted this: http://nourishedkitchen.com/?s=roe Yummmmmm...I'm envious...enjoy!